Massachusetts Bathroom Remodeling Contractor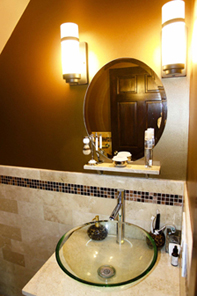 When it comes to Massachusetts bathroom remodeling, P.S. Construction is able to create a space where you will begin and end your day with life's worries washed away. Whether you need to update your powder room or enlarge and enhance a master suite you can rest assured that our bathroom remodeling contractors can design you a personal space that is unique and within your budget.
Bathroom Design - During the design process the most important question you can ask yourself is; "Why do I want a new bathroom? P.S. Construction will work with you to design a bathroom that fits your family needs and comforts... (learn more)
Our Massachusetts Bathroom Remodeling Services
Bathroom Remodeling
Bath Remodels
Bathroom Design
Flooring Installation

Shower/Tub Installation
Bathroom Fixture Installation
Bathroom Lighting
Small Bathroom Design

Bathroom Cabinetry
Bathtub Remodel
Whirlpool Installation
Window / Skylight Installation
We Provide Bathroom Remodeling Services to the Following Areas:
Massachusetts: Westfield, MA | West Springfield, MA | Springfield, MA | Agawam, MA | Southwick, MA | Longmeadow, MA | East Longmeadow, MA | Huntington, MA | Russell, MA Connecticut - Enfield, MA | Bloomfield, MA | Granby, MA | Windsor Locks, MA | Somers, MA | Simsbury, MA | Canton, MA | Avon, MA | Windsor, MA
Why Massachusetts Should Hire Us for Bathroom Remodeling
We have over 35 years of experience in Massachusetts and Connecticut bathroom remodeling services. P.S. Construction is a family owned and operated remodeling contractor. We handle all of our remodeling work ourselves, with the exception of plumbing and electrical.
Our past clients highly reffer and recommend our remodeling services to the Massachusetts area. With our knowledge and experience you can rest assured that you will get complete satisfaction on all of our remodeling services.
Recent Articles About Bathroom Remodeling
If you are looking for a professional Massachusetts bathroom remodeling contractor, please call us today at 413-562-8868 or complete our online consultation form.