Connecticut Custom Roofing Contractor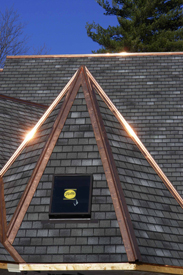 Everyone wants their roof to be the most unique and attractive. People who are building their homes often find themselves checking out every home they visit for the roof designs. The most significant thing about different designs is the style and shape of the design. The questions that you need to ask yourself before selecting and finalizing any design amongst the various roof designs is, whether it will go along with the style and shape of your home? You also need to consider that whether it will match with the general style of your neighborhood houses or buildings.
Custom roofs have grown in popularity because homeowners know of their advantages: they can be measured for exact fit so there is little waste during installation and the material is light weight, making it easy and inexpensive to transport to the construction site.
Copper has become one of the most popular metals for roofing. Copper has been used in buildings for hundreds of years and is known for its durability. It develops a patina as it oxidizes that helps protect it from the weather as it ages.
If you are looking for a professional Connecticut custom roofing contractor, please call us today at 413-562-8868 or complete our online consultation form.