Connecticut Bathroom Design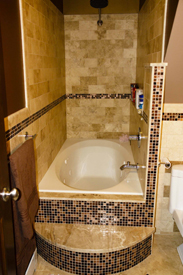 At P.S. Construction, your trusted Connecticut bathroom remodeling contractor, we have in-house bathroom designers who use a structured proprietary approach to structural and space design that ensures a predictable and positive outcome.
We measure the space in your Connecticut home and examine the existing conditions and surrounding areas. Plumbing, structure and age of your home are taken into account when planning the flow of the new bathroom design. Structural plans are then prepared for permitting.
We serve a very demanding clientele who expect the very best, by providing exceptional attention to detail, a passion for perfection and an unfailing promise of satisfaction.
Connecticut homeowners participate in the overall design process by partnering with our bath design professionals to create a functional new bathroom with materials, fixtures, color, and other elements that set it apart from the ordinary.
We cordially invite you to make an appointment with us to review your bathroom remodeling needs and assist you in space planning. We have the latest styles of fine products available, as well as all necessary products to complete any type of bath remodeling project.
If you are looking for a professional Connecticut bathroom design contractor, please call us today at 413-562-8868 or complete our online consultation form.